Amenities
Why JB Knowledge Park?
Placement & Industry Orientation: College is promoted, funded, and maintained by a group of industries, and hence the industry interface is but natural
Personality Enhancement: At JBKP, emphasis is given on not only making you academically brilliant but a true leader and team player, thus preparing you for the real-life corporate world.
Best Students: Only the best of the students get admission in JB. Our admission in B Tech started with 12452 AlEEE All India Rank in 2011 students, and the majority of students selected hold a decent rank in AIEEE.
Reputed Faculty: Strong faculty led by Industry oriented Management, Leading corporate professionals, as visiting faculty, share rich industry experience
Government Recognized: All the programs are approved by the AICTE, Ministry of HRD, Government of Indian & affiliated to M.D. University, Rohtak, a State Govt University.
State of Art Infrastructure: 23 Acres of lush green campus, 25+ Labs, Libraries and sports infrastructure makes it one of the largest campus in Delhi NCR
In campus Hostel: Hundreds of students from all over the country live in In-campus Hostels Residences, which come closest to being a home away from home. The separate facilities for boys and girls, caring wardens, and tight security.
International Campus: JB has partnered with ATMC- University of Ballarat in Australia, which allows to join our Australian campus after any year and complete the bachelor in Australia with 100% credit transfer scheme.
Sports
At JB, we strongly believe Participation in games and sports invariably ensures good health, and fitness generally and enhance overall academic performance. JB Knowledge Park Sports staff persuade as many indents as possible, regardless of special aptitudes, to participate in games and not merely watch matches occasionally to cheer up their favorite teams. In addition to adequate indoor games facilities, extensive and well-laid-out playgrounds are available for out door games with all amenities. The students are trained by experts in the games like cricket, volleyball, badminton, chess, and carom. The students are also sponsored by various inter-college sports activities. At campus, Life would be so boring without a nerve-racking match of Basketball, Cricket, or Volleyball. We have taken care to divert you from studies at times to avoid you becoming a bookworm. We have sports facilities on campus for outdoor sports such as Basketball, Cricket, and Volleyball. If you'd rather rack your brains on the Chess Board, table tennis, or show your talent at Carom – go ahead and prove yourself. In the field of indoor and outdoor sports, our aim is to train students, and make them physically fit and capable of playing at University, state, and National levels. Physical and mental fitness is going to be guru mantra for Gen'next. Associated with physical fitness is our Gym center. This center has been created with the sole aim of taking care of the physical fitness of all JBians.

An educational body is not merely conceived as a vast reservoir of knowledge but as a source of human development in all aspects, adding to the highest achievements. An educated individual has to be physically fit, mentally alert, intellectually sharp, emotionally balanced, and socially well-adjusted. To produce such educated individuals, BDES Group of Institutions gives due importance to physical fitness also in their educational program. To realize the individual's maximum potential and attain an optimum level of efficiency in sports, our college has provided enough and excellent facilities. Besides, the environment is well-suited for players to grow and exhibit their best talents.
The has the best-facilitated grounds for sporting action. We encourage the competitive spirit by hosting a number of tournaments, establishing clubs, and conducting coaching camps for better performance in the field of sports.
Laboratories & Workshop – All the laboratories and workshops are fully equipped with modern facilities and the latest equipment. These state-of-the-art equipment provide students immense opportunities for making traditional and new experiments and collecting, analyzing & interpreting the data so as to help in understanding the underlying theory effectively.

The Institutes have hostel facilities for boys and girls separately with 24-hour backup power supply. Hostels can accommodate around 200 undergraduate and postgraduate students. The hostel rooms are spacious and well-furnished. Each hostel has its own mess. Spacious and modern kitchens with steam cooking cater to healthy and nutritious food. Strict hygienic conditions are maintained.
Each hostel is provided with a television, telephone, water purifier, water cooler, and kit for indoor games and outdoor games. The hostel residents are expected to adhere to a set of hostel rules and regulations.
All the modern facilities like internet, Sports, activity centers, gym, refreshment centers are made for the hostellers.At JB, you will be among the many students coming from all across the country to live in JB Residences, which come closest to being a home away from home.The separate facilities for boys and girls, caring wardens and a tight security ensure a pleasant stay allowing students to focus on their academics. Whilst internet access and STD facilities ensure close contact with family and friends outside; the common rooms are fully equipped with TV, indoor games and other recreation facilities.
---

Hostel Mess/ Cafetaria
Mess & Canteen facilities are provided within the campus to all the students. Great décor and mouthwatering & fresh delicacies at a reasonable cost will make this a popular hangout for students. Here they can relax, take some snacks, make plans of study, purchase some essential items, and so on.  The student decides the menu, and committees decide the vendors.
---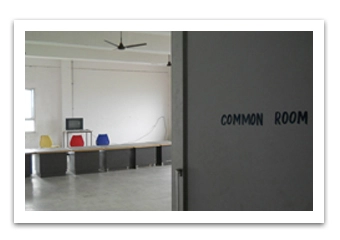 Recreation Centre/common room
The right place to relax and unwind. Spacious and airy halls are provided where students can do many activities in a comfortable environment to interact and play. TV, Wifi Connections, Newspapers, table tennis table, carom boards, magazines, and above all, comfortable furniture is organized where students can relax for some time and interact with other students.
Fully computerized Central & Departmental Libraries are designed to meet all the information needs of students, research fellows, and faculty. These are air-conditioned and spread over two floors and stacked with books on a wide range of management & engineering subjects. The central library has a beautiful reading hall, an information retrieval center for accessing the web, and an exclusive research center for the more serious. The total area planned for the library is 1800 square meters. Subsidized photocopying & printing facilities for students enable them to make the best use of the library resources. The library started with currently has more than 25,000 Books, International and national journals, magazines, data banks, video and audio CDs and above all, the availability of e-journals makes it a unique library in this region.
---
Library Technology Partner
The library started with currently has more than 25,000 Books, International and national journals, magazines, data banks, video and audio CDs and above all, the availability of e-journals makes it a unique library in this region.
We are under the process of having collaboration with other National & International libraries to avail their facilities for our students. LIBSYS, DELNET, and Internet nodes for accessing articles & research papers from the web are our tools to sharpen students' brains. A database like Prowess containing a highly normalized database of about 10,000 companies, is going to provide immense help to our students in terms of placement opportunities.
JB Support to Open Library Project:
"To build Open Library, we need hundreds of millions of book records, a wiki interface, and lots of people who are willing to contribute their time and effort to building the site. To date, we have gathered over 20 million records from a variety of large catalogs as well as single contribute-
Best Library in Faridabad, best library in engineering college, the best library in b tech college
-ions, with more on the way. Open Library is an open project: the software is open, the data are open, the documentation is open, and we welcome your contribution. Whether you fix a typo, add a book, or write a widget–it's all welcome. We have a small team of fantastic programmers who have accomplished a lot, but we can't do it alone!" OpenSource
---
JB Knowledge Park [ JB College ]
Average rating:
0 reviews