Best B Tech College in Delhi NCR: JB Knowledge Park
Best B Tech College in Delhi NCR: JB Knowledge Park
JB Knowledge Park Engineering College is a 23-acre technical campus located in Faridabad. Established in 2009, JB is a pioneer in B Tech and engineering courses. Every year, 210 bright students are selected by JB to be part of the best B Tech college in Delhi, NCR. Bachelor of Technology (BTECH) is a regular engineering degree course affiliated with MDU, a NAAC A+ university.
When in JB, B Tech students witness hi-tech, air-conditioned classrooms, 30+ labs, and highly experienced faculty. In addition to the huge library and lush green grounds, events, seminars, festivals, and sports meets make life exciting for B Tech students in JB. As a result of an industry-backed campus, placements have been satisfactory so far. Fees for the B Tech course start at Rs 70000 p.a. for core branches and Rs 81000 for the B Tech in computer science.
Eligibility for B TECH
Students from science backgrounds with 10+2 passes and a minimum of 60% in PCM and overall are eligible for the B Tech program. For admission inquiries, call 9999888321.
B Tech Streams
| Branch | Total Intake | Fees | Duration |
| --- | --- | --- | --- |
| Electronics & Communication Engineering | 30 Seats | Rs 90000 per year | 4 Years |
| Electrical Engineering | 30 Seats | Rs 90000 per year | 4 Years |
| Mechanical Engineering | 30 Seats | Rs 90000 per year | 4 Years |
| Computer Science Engineering | 120 Seats | Rs 90000 per year | 4 Years |
B Tech branches are approved by the AICTE, Ministry of HRD, Government of India and affiliated to M.D. University, Rohtak.
For the B Tech Lateral Entry Program — Click here
Why JB Knowledge Park?
Placement & Industry Orientation:
Today's challenge in the industry is the disconnect between education and industry requirements. JB College is promoted, funded, and maintained by a group of industries, and along with theoretical knowledge, we obviously provide an industry interface. On the other hand, our teachers are aware of industry requirements, and we prepare our students for the job sector as well.
B Tech primarily focuses on in-depth technological concepts, allowing students to understand, analyze, and synthesize the concepts involved in engineering streams. Moreover, a Bachelor of Technology enables professional competence in design, development, and implementation. As conclusion, due to facilities, crowds, and placements, JB is the best technical college in Delhi, NCR.
Personality Development:
Doing 10+2 doesn't enable a good personality in students. Personality orientation is meant to provide more opportunities for students than just academics. Moreover, at JB, we have the best program for personality development and English improvement. Now at this point, students' confidence increases with these programs, which promote lifelong learning.
Best Crowd:
Since students are from across India and the world. At JB, you will find the brightest students in the league and the most decent crowd in Delhi, NCR.
Strong Faculty:
B Tech students can be assured of full cooperation and always-on support in all matters from the Faculty of JB. Besides, most faculty have B. Tech., M. Tech., and Ph.D. degrees with strong industry experience.
Proper Approvals & Government Recognition:
The AICTE, the Ministry of HRD, the government of India, and MDU Rohtak have all approved all of the institute's streams.
State-of-the-Art Infrastructure:
JB is a huge, lush green campus with transportation facilities, labs, and other infrastructural features that make it one of the best campuses in Delhi NCR. Moreover, we offer 40+ labs for engineering students.
In-campus Hostel & Transport from Delhi, NCR:
Students from across the country live in on-campus hostels and residence halls, and hundreds of them travel from across borders and the Delhi-NCR region to study here, which is the closest thing to a home away from home.
Department of B Tech in the JB Knowledge Park
Classrooms
For the B Tech course, we have a spacious classroom with a seating capacity of 70 students in a B Tech class; benches are broad and comfortable with projector-enabled classes.
B Tech Students' Sports Facilities:

At JB, we strongly believe participation in games and sports invariably ensures good health and fitness generally and enhances overall academic performance. JB Knowledge Park Sports staff persuade as many students as possible, regardless of special aptitudes, to participate in games and not merely watch matches occasionally to cheer up their favorite teams. In addition to adequate indoor game facilities, extensive and well-planned playgrounds with all amenities are available for outdoor games.The students are trained by experts in games like cricket, volleyball, badminton, chess, and carom. The students are also sponsored by various inter-college sports activities.
Hostel Facilities:

A dedicated hostel with 100 rooms is available for B Tech students, with the options of 2-seaters, 3-seaters, 4-seaters, and dormitories. In addition, we have AC and non-AC options. Moreover, food is 100% vegetarian, and non-vegetarian food can be ordered on demand.
Career Opportunities
The scope of B Tech graduates is immense, and they definitely stand a better chance of getting jobs in the field of computers than normal graduates. After B Tech, you can pursue a career in a variety of fields.
Top Career Options After a Bachelor's Degree
Job opportunities for B Tech graduates are limitless. We make sure that every student is equipped with in-depth knowledge about their subjects. In addition to strong academics, personality development helps B Tech students start careers as Software Developers, Web Developers, Front-End Developers, Back-End Developers, Testing Engineers, System Engineers, and many more. The initial package ranges from around 3 LPA to 12 LPA. This package depends on the company, profile, and students' skills, knowledge, and projects done during the program. Furthermore, JB has a dedicated placement cell that offers 100% placement assistance to students who wish to work.
Department of Computer Science and Engineering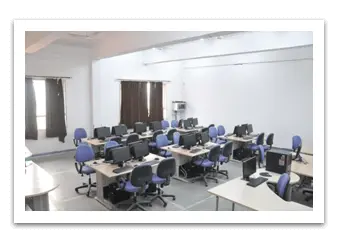 The Computer Science and Engineering (CSE) department has a strong collaborative effort with industry partners to address current technology problems in the real world, which are then solved using computer science principles. On the other hand, CSE is packed with budding technocrats whose interests lie in exploring, enhancing, and steering the application of computer science in the world of engineering.
The students are put on the anvil and shaped to take on global professional challenges. Software is one of the largest growing sectors of the Indian economy, and the Department of CSE at the Faculty of Engineering has been at the forefront of churning out computer engineers with a high caliber of technical expertise once you take admission in engineering.
The department is convinced that neither industry nor academia has the resources to adequately address the department's pursuit of innovative excellence and global competitiveness.
The department's institute-industry interface program allows students to interact with industries on a regular basis. Moreover Equal importance is given to classroom learning, which is meant primarily for theoretical or conceptual inputs of knowledge on a variety of subjects. As I have said, JB has 40+ labs to practice and hands-on experience. Furthermore, the department has a faculty with a wealth of practical experience, allowing students to successfully complete live projects.
Employment opportunities:
Once admitted to a B Tech program, you can work as a Web developer, a front-end developer, a back-end developer, perform system analysis, learn networking, perform database administration, provide IT-enabled services, create multimedia, create animation, teach, conduct research, and develop software.
Department of Electronics and Communication Engineering
The department of Electronics and Communication Engineering (ECE) is poised to meet the changing technological scenario and technical manpower requirements by thoroughly updating its course curriculum while offering experienced faculty members, highly skilled supporting staff, and state-of-the-art laboratories.
As I have said, the department will have thirteen state-of-the-art laboratories for conducting various practical classes for undergraduates, postgraduates, and researchers. An advanced computer laboratory has been set up for the students and faculty members to meet advanced computational requirements. We always try to modernize the laboratory facilities with the latest technology, including a computer lab equipped with state-of-the-art computers.
Electronics and communication engineering is a discipline that deals with the design and development of applications, systems, components, and techniques for the transmission, processing, and utilization of information.
Thus, electronics engineering encompasses a wide range of applied disciplines, including electronics manufacturing and instrumentation technology, telecommunication engineering, electronic apparatus engineering, and more.
Employment opportunities:
Engineers in the field of telecommunications, administrators and managers, resource personnel, sales and marketing personnel in IT industries, teaching, research, and development staff, engineers in power sectors, and engineering cores within defense forces
Department of Mechanical Engineering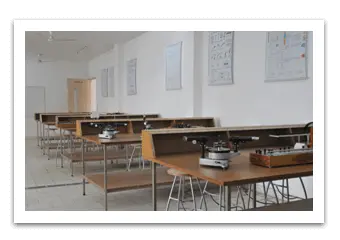 The Department of Mechanical Engineering (ME) is an institution with highly qualified faculty and experienced staff. It offers courses related to servicing, maintenance, and troubleshooting aspects, as well as analytical skills in various subjects related to mechanical engineering.
The course curriculum is on par with that of the country's top institutions. Moreover, the laboratories and the workshops are fully equipped with advanced equipment and machines. It will constantly modernize the laboratory facilities with the latest technology and research know-how.
The world of mechanical engineering has totally changed in the last decade. Moreover, the department of mechanical engineering dreams of producing mechanical engineers who can use the latest technology with confidence and design and create parts and products for the common man at an affordable cost. These engineers would have global acceptability, thus facing the recession successfully.
Employment opportunities:
You can work as an engineer or manager in the core mechanical and automobile industries, in the IT-enabled mechanical-based industry, as a ship engineer in the merchant navy, and at PSUs such as Hindustan Aeronautics. In your teaching job, you can work at an engineering college.
Department of Electrical Engineering
The courses offered by the department are designed to train students in the art of finding faults, servicing, and maintenance. The courses also provide sound knowledge so that students can analyze, design, and lead with innovative ideas in the subject of Electrical Engineering (EE), which is suitable for current needs in modern industries and public sectors.
It will constantly modernize the laboratory facilities with the latest technology and research know-how.
The Department of Electrical Engineering's Central Library is a strength of the department, which supports the academic thrust of students and faculty members by providing books, journals, reference materials, and computers for students to use. Following this, the department has plans to organize international and national conferences, workshops, seminars, and short-term courses.
Employment opportunities:
After an MBA, you can work in the core mechanical, electrical, and power sectors and boards, the management CADRE of a modern MNC, IT-enabled electrical-based industry, the armed forces, and the merchant navy as a ship engineer. Besides, you can get jobs from PSUs like Hindustan Aeronautics, BARC, NTPC, NHPC, BHEL, and ONGC, teaching jobs in engineering colleges, etc.
Admission Procedure for B Tech
Step 1: Check seat availability and eligibility. Call our helpline number at 9999888321 for seat availability and eligibility for B Tech admissions in 2023.
STEP 2: COMPLETE THE ONLINE FORM: If you are eligible for B Tech, complete the form. You have to pay Rs. 2000 and get an appointment for a campus visit. Form charges are included in the total fees you will pay.
Step 3: Campus Visit and Registration You have to take an appointment from your counselor and visit the campus for interaction; upon successful interaction and approval, you will be required to pay the registration fee of Rs 8,000. Faculty interaction and documentation checking are done post-registration. Lastly, a complete outline of the BCA course will be given.
JB Knowledge Park – Among Top Colleges for BTech in Delhi NCR Faridabad Location Map
Tags : Best B.Tech College in Faridabad |Top B.tech College in Delhi NCR | B.tech colleges in Delhi NCR | BTech colleges in Delhi NCR | BTech Colleges in Faridabad