Hostel – JB College Faridabad Delhi NCR

The Institutes have hostel facilities for boys and girls separately with a 24-hour backup power supply. Hostels can accommodate around 200 undergraduate and postgraduate students. The hostel rooms are spacious and well-furnished. Each hostel has its own mess. Spacious and modern kitchens with steam cooking cater to healthy and nutritious food. Strict hygienic conditions are maintained.
Each hostel is provided with a television, telephone, water purifier, water cooler, and kit for indoor games and outdoor games. The hostel residents are expected to adhere to a set of hostel rules and regulations.
All the modern facilities like internet, Sports, activity centers, gym, refreshment centers are made for the hostellers. At JB, you will be among the many students coming from all across the country to live in JB Residences, which come closest to being a home away from home.The separate facilities for boys and girls, caring wardens, and a tight security ensure a pleasant stay allowing students to focus on their academics. Whilst internet access and STD facilities ensure close contact with family and friends outside; the common rooms are fully equipped with TV, indoor games, and other recreation facilities.
---

Hostel Mess/ Cafetaria
Mess & Canteen facilities are provided within the campus to all the students. Great décor and mouthwatering & fresh delicacies at a reasonable cost will make this a popular hangout for students. Here they can relax, take some snacks, make plans to study, purchase some essential items, and so on.  The student decides the menu, and committees decide the vendors.
---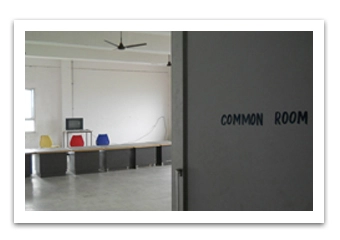 Recreation Centre/common room
The right place to relax and unwind. Spacious and airy halls are provided where students can do many activities for entertainment in a comfortable environment to interact and play. TV, Wifi Connections, Newspapers, table tennis table, carom boards, magazines, and above all, comfortable furniture is organized where students can relax for some time and interact with other students.
---

Library – JB College Faridabad
Fully computerized, Central & Departmental Libraries are fully available to Hostelers. The central library has a beautiful reading hall, an information retrieval center for accessing the web, and an exclusive research center for the more serious. The total area planned for the library is 1800 square meters. Subsidized photocopying & printing facilities for students enable them to make the best use of the library resources. An adequate number of books are available in the library for students staying in hostel
The library currently has more than 25,000 Books, International and national journals, magazines, data banks, video and audio CDs and above all, the availability of e-journals makes it a unique library in this region.
---

Computer Labs for Hostlers – JB College
Twenty-four hours high-speed Internet facilities are available through a dedicated lease line with a radio link.
The laboratories have the latest Operating Systems, Front End Tools, Multimedia Software, MSDN Academic Alliance, and subscription to the newest Microsoft developer tools, platforms, and servers.
The center is developed so as to provide students with expertise in the latest and useful programming languages, software, accessories, multimedia, networking, etc., with their practical application. Many add-on courses are planned to make students industry ready.
---

Sports for Hostlers
Hostel Life would be so boring without a nerve-racking match of Basketball, Cricket, or Volleyball. We have taken care to divert you from studies at times to avoid you becoming a bookworm. We have sports facilities on campus for outdoor sports such as Basketball, Cricket, and Volleyball. If you'd rather rack your brains on the Chess Board, table tennis, or show your talent at Carom – go ahead and prove yourself. In the field of indoor and outdoor sports, our aim is to train students, and make them physically fit and capable of playing at University, state, and National levels. Physical and mental fitness is going to be guru mantra for Gen'next. Associated with physical fitness is our Gym center. This center has been created with the sole aim of taking care of the physical fitness of all JBians.
---